Asian Institute of Management partners with HealthCore for the Certificate Course on Patient-Centered Healthcare Management (10-12 April 2019)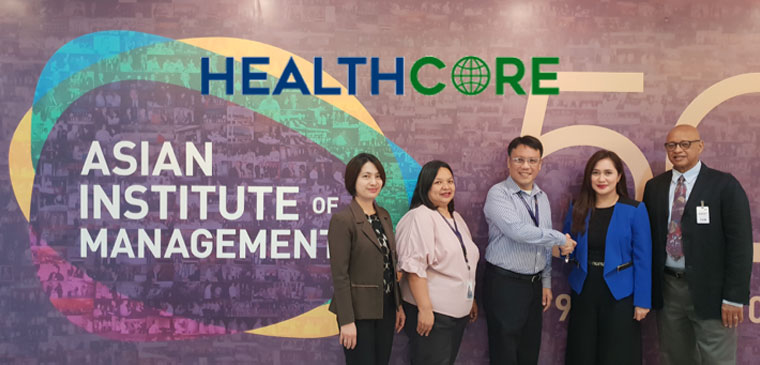 The Asian Institute of Management (AIM), one of the premier business schools in Asia, partners with HealthCore, the center for international healthcare management, patient safety and quality accreditation for healthcare and medical tourism, in offering the Certificate Course on "Patient-Centered Healthcare Management" – a leadership development program on quality management in healthcare and patient safety, on April 10-12 at the AIM Conference Center.
The program aims to fully equip healthcare managers on the global standards of care in patient management and hospital administration. It provides a set of core topics that serve as building blocks for improving quality and patient safety. Shown in photo (from right to left) are: Dr. Richard Wright, independent consultant of Joint Commission International; Joyce Socao-Alumno, President and CEO of HealthCore; Jose Rafael Ortega, Partnership Management Manager of AIM; Jane Canelas, Program Manager of AIM; and Mary Grace Reynoso, Managing Director of AIM School of Executive Education.
To register or inquire, please email info@health-core.org or call +63.908.8887880. Enrollment ends on 2 April 2019.